About us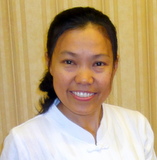 Hi, my name is Ulaiwan, but most people call me Noi. I welcome you to relax the Thai way here at Jada Spa and Massage. Thai massage eases tension in the body and makes the pain disappear.
As a child I learnt massage from my mother and my sisters. I gave my family a little massage after their long and hard day at work. I was happy to see them feeling better after receiving the massage.
Later I got the opportunity to study Thai massage and spa at the Association of Thai Traditional Medicine Societyopen_in_new by the Ministry of Public Health i Thailand. I understood that I could share the good things about massage with you such that you can relax and recover from fatigue. I am proud to share beautiful Thai culture and massage with you. I hope from my heart that you will have the opportunity to take care of yourself and your family here at Jada.
Welcome to Jada Spa and Massage!
What does "Jada" mean?
Some customers wonder why we are called "Jada Spa and Massage". Most people probably think of the Norwegian expression "ja da" that is a way to give an affirmative answer. However, our name comes from the Thai word "ญาดา"open_in_new that is pronounced "yada" (or "jada" pursuant to Norwegian pronunciation rules). The word means wise person, intelligent person or scholar. This reflects the fact that our massage therapist is thoroughly educated in the treatments we offer, and that we offer professional treatments according to traditional methods. That the word "jada" gives positive associations in Norwegian, is of course also an advantage.